Liu Xiang wins men's 110m hurdles heat
Publish date:2010-11-23 Pageview:2073
GUANGZHOU - China's former Olympic and world champion Liu Xiang finished first in heat one to reach the men's 110 meters hurdles final at the Asian Games Monday.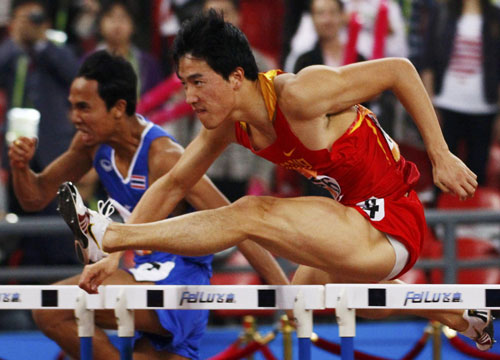 China's Liu Xiang runs to win his men's 110m hurdles heat at the 16th Asian Games in Guangzhou, Guangdong province, November 22, 2010. [Photo/Agencies]
The 27-year-old, who was definitely the focus of all media and spectators on the track, clocked 13.48 seconds with ease. The time topped the total ranking of the two heats.
"I feel really good," said Liu, the Asian record holder whose personal best was 12.88. "I wanted to say thank you to the fans, and I hope I can do better in the final."
Liu said before the Asian Games that he was still bothered by the foot injury but he was in a stable form now. He also said he expected to run within 13.40 at the Asian Games.
Liu limped off the field of the national stadium Bird's Nest in the Beijing Olympic Games even before he started running in the first heat to defend his glory, leaving millions of Chinese fans dumbfounded with the blow.
He was later treated in the United States, accepting surgery on his right Achilles' tendon.
Another famous Chinese hurdler Shi Dongpeng also qualified for the final by finishing second in heat two in 13.89, but the result could only ranked fifth.
South Korean Park Taekyong finished in 13.68 to rank second, while the third was Saudi Arabia's Ahmed Khader A Almuwallad, who clocked a personal best of 13.69.
The men's 110m hurdles final will be held on Wednesday.