the queen in pole vault--Yelena Isinbayeva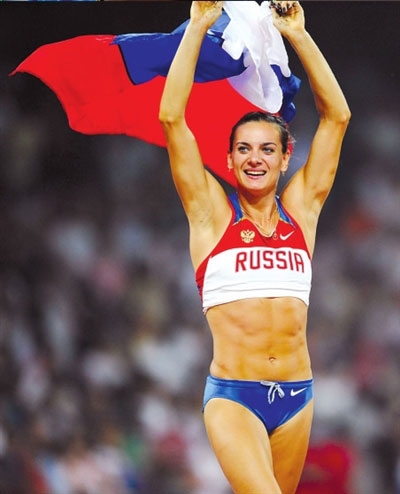 Name:Yelena Isinbayeva
Date of Birth: June 3,1982
Nationality: Russia
Sports: pole vault
Olympics: 2008 Beijing Olympic Games
Medals: 1 gold medal
Pageview: 1915
Description:
Yelena Isinbayeva
If asked who your idol is, I will blurt Yelena Isinbayeva without hesitation.
She was born in Russia, on June 3, 1982. Known as an excellent athlete in pole vault, Isinbayeva has many physical features.
She is 1.74m in height, bland but muscular, with broad shoulder and a slim twist.
In my view, she is pretty good-looking, with medium long ponytail black hair, slight hooked nose and blue eyes with long dark lashes under.
However, what attracts me most is her indefatigable personality rather than appearance. Isinbayeva has never been dreaded by any difficulty. There is no "give up" in her dictionary.
She came from a poor family which made her more diligent than other children. When she was five, gymnastics instead of pole vault was her profession. But there was a height limitation for gymnastic athletes. This cruel fact forced her to take up another item as her career. Imagine what a big frustration it was to a young girl. Fortunately, she didn't lose sight of her goal. Isinbayeva took up the pole vault to pursue her dream.
After a long time of training, her endeavor paid off. In 1998, Moscow, Isinbayeva won the first world championship in her life. Then she kept rising as a rocket, winning 30 champs, breaking world record 27 times.
At the beginning of this year, Isinbayeva was beaten by a player from Poland two times at golden leagues. So, some people thought the era of Isinbayeva will end. ButI was opposed to their views. It was just an accident. She can never be hit down so easily. As expected, on October 29, at another golden league in Zuerich, she succeeded in beating the player from Poland, winning the first place by breaking up the world record.
Challenge yourself, never give up easily. That is what Isinbayeva teaches me. Her toughness is the spiritual power which always helps me move out of frustration and keep optimistic about life.